T-Tops for Crates
T-Tops are excellent for allowing your dog to have some alone time especially during stressful situations.
They are made with the same water resistant fabric as in the x-pen covers and are held in place with a webbing strap and buckle… they are easy to put on or take off.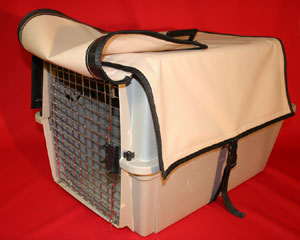 Available Colors
Tan
Red
Blue
Purple
Hunter Green
Gray
T-Tops are perfect for allowing your dog some quiet… especially at dog shows, veterinarian, or where it is noisy or stressful.
A T-Top can be built to your crate size.  Please contact us for custom colors and/or sizes.
Fits Vari-Kennel Crates
T-Top for Size #200 is $35
T-Top for Size #300 is $40
T-Top for Size #400 is $45